Get a detailed peek at how we use Montessori for homeschool with this behind-the-scenes peek at everything we did this week.
I'm back with another behind-the-scenes look at our Montessori homeschool! Highlights of the week included reading outside on what will likely be one of the last warmish days of the year here and completing a research project on outer space.
Here's a peek at our week!
Our Montessori Homeschool Week
Monday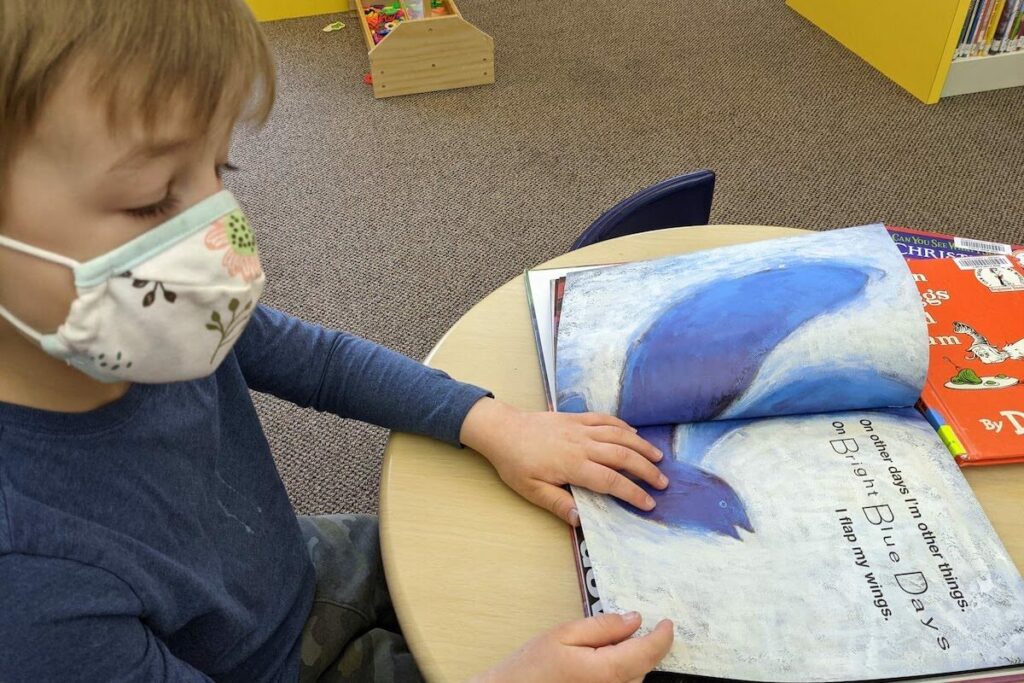 Today was a library day, which is always fun for both me and the kids. We hadn't gone to the library in a couple of weeks because I got carried away and reserved a ton of books for our previous visit. The highlights were this Sounds of the Wild book and the Book of Bones (which we actually own, but it is in storage with many of our belongings in Austin).
Today at the library, James chose a book from the shelf and asked to read it to me, which felt really special! His reading has been progressing really well but he's just recently started volunteering to read books to me or to Lilah and I love that he's enjoying reading so much.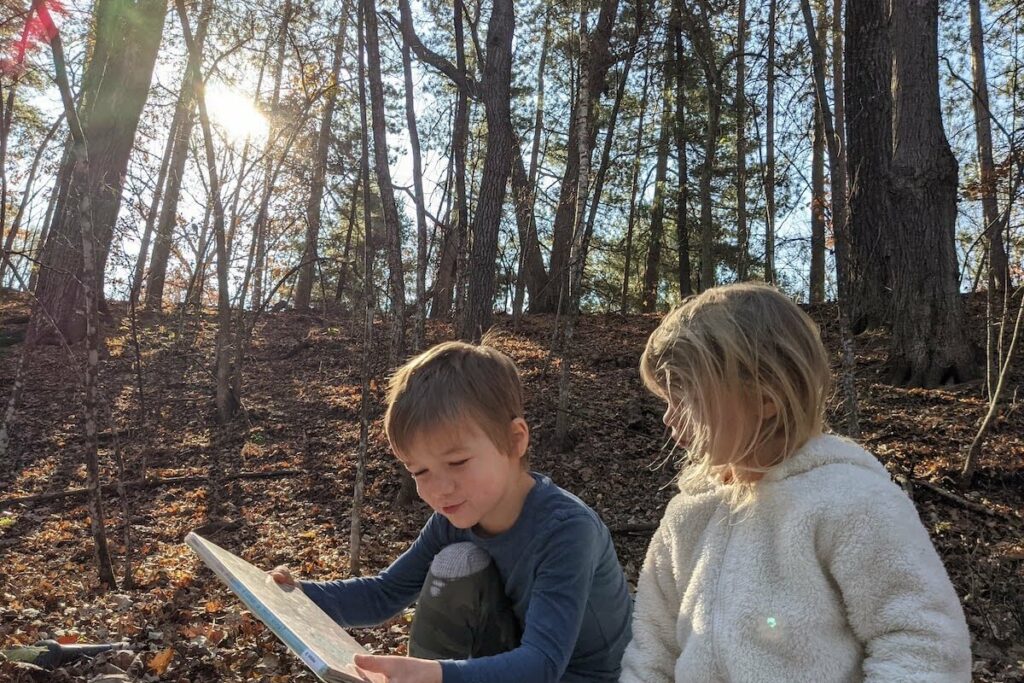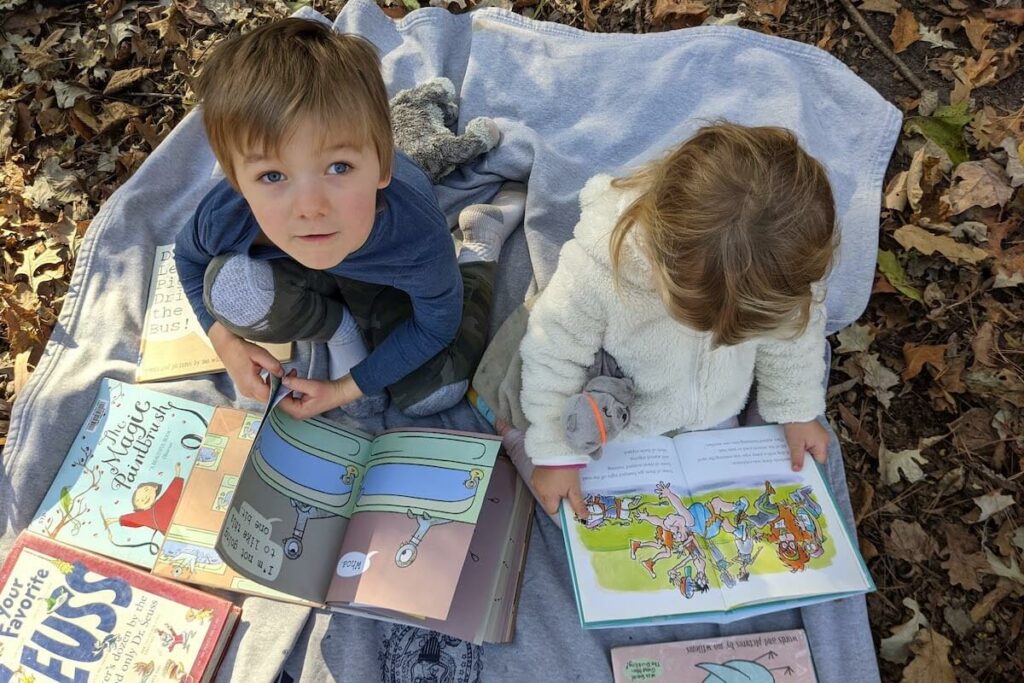 It was an exceptionally beautiful fall day here in Wisconsin with sunny weather in the 60's. So when we got home from the library, we brought a blanket and our books into the forest by the house and read books in the woods. I truly love incorporating reading experiences like this that feel special, even a bit magical. Encouraging a love of reading is every bit as important to me as teaching the technical skills of reading.
We wrapped up the morning with a picnic lunch in the forest.
Tuesday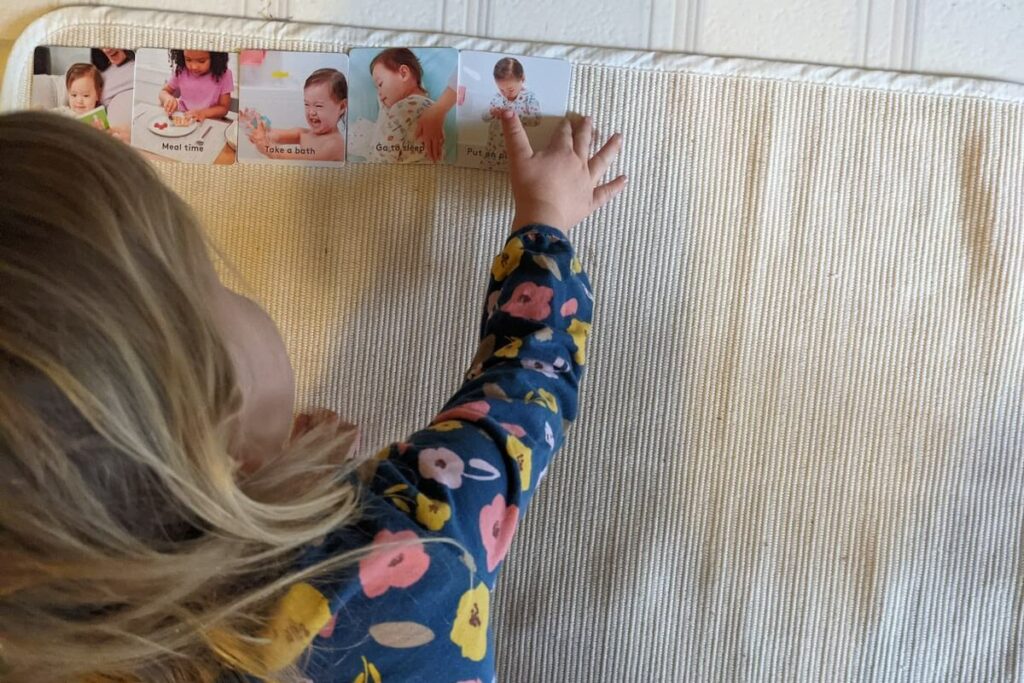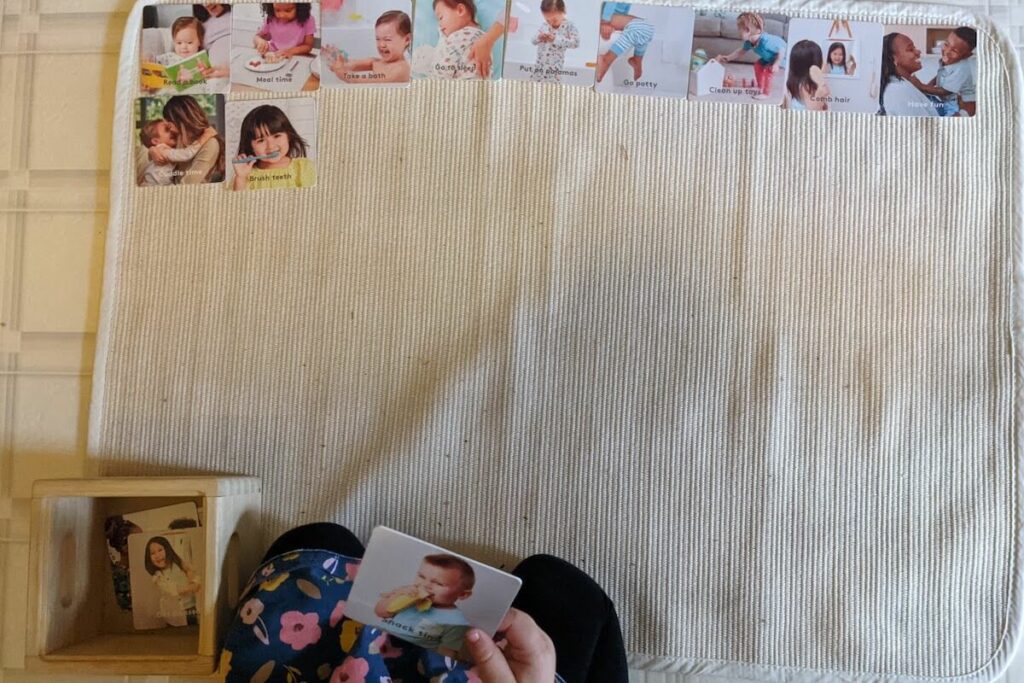 This was the week after Daylight Savings. James had been waking up early and he made up for it today by sleeping until 8:30! He always needs a little time to wake up before jumping into the day and requested some time in his room to listen to his favorite podcast before breakfast and school work.
I took advantage of this rare one-on-one time with Lilah and gave her a lesson on the Daily Routine Cards that came with a Lovevery box I purchased a couple of months ago. She loved them and we did the work together twice.
It depicts images of toddlers doing various daily tasks. Today we just talked about each image. Next time I'll introduce the concept of putting them in order if she's interested.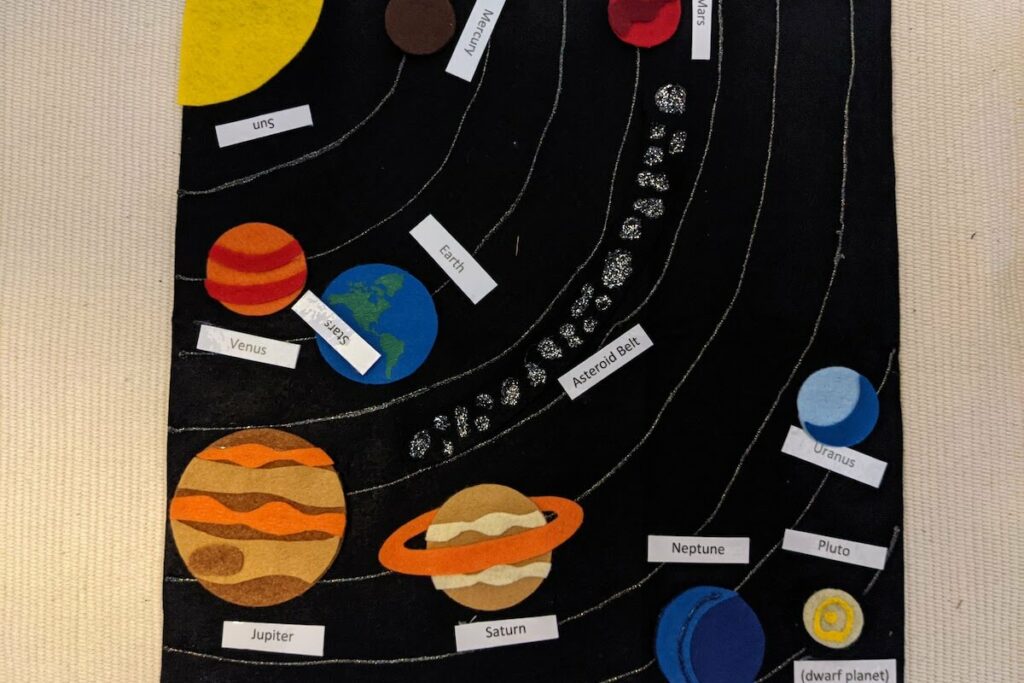 After James finally emerged from his room and ate breakfast, we only had about an hour before I had to take Lilah to a well check appointment.
James read to us (he's loved reading the Franklin early readers, which we get from the library, lately!) After that I gave him a lesson on a map of the Solar System work I recently purchased from Etsy. Both kids loved this and James want to make a collage depicting the map on a different day.
This was a short day due to James's late wake up and doctors appointments, but it was still a good one!
Wednesday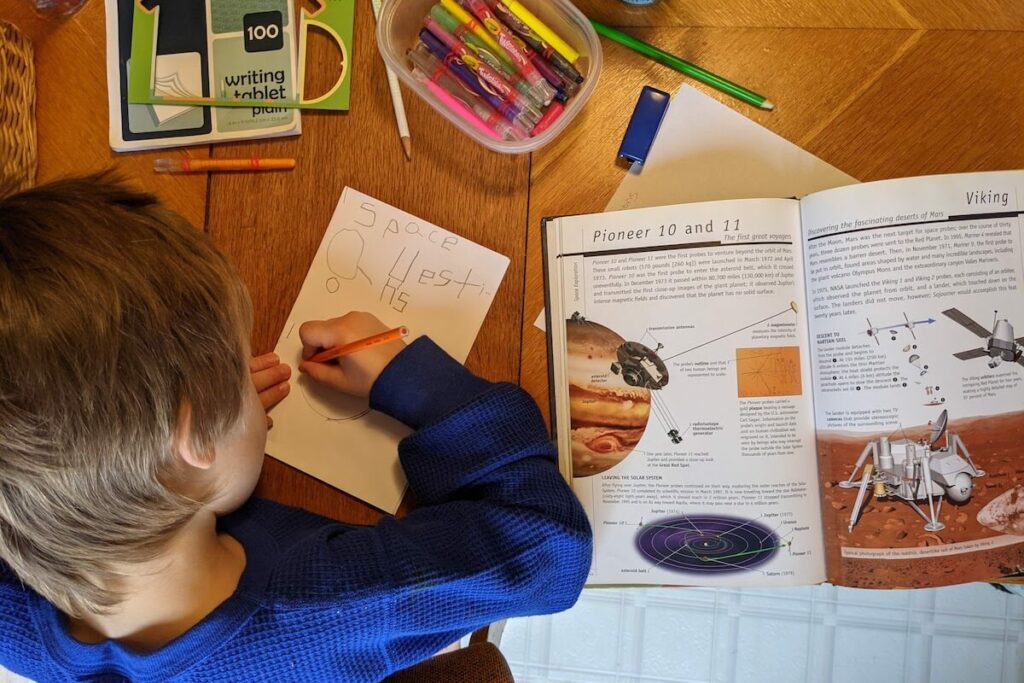 We started the day with baking bread. This doesn't take long because we usually use a bread machine but both kids enjoy the process (and we all enjoy the eating 🙂 )
I vividly remember two years ago when Lilah was one and James was three. Cooking with both kids around was NOT fun. We've finally reached the stage where, while it takes significantly longer, cooking with the kids is actually fun and feels rewarding rather than just draining. I do prefer cooking all together when we have plenty of time, which often means in the morning rather than at dinner time.
After getting the bread started, we read books as always and then James wanted to get started on his space research project. I talk more about our process for research here if you're interested! He determined the questions he wanted to answer and we started reading through the space books he chose at the library to find the answers. He's always engaged the whole time when doing these projects and I always learn things too! It's a great mix of science, fine motor skills to write and decorate, and critical thinking skills.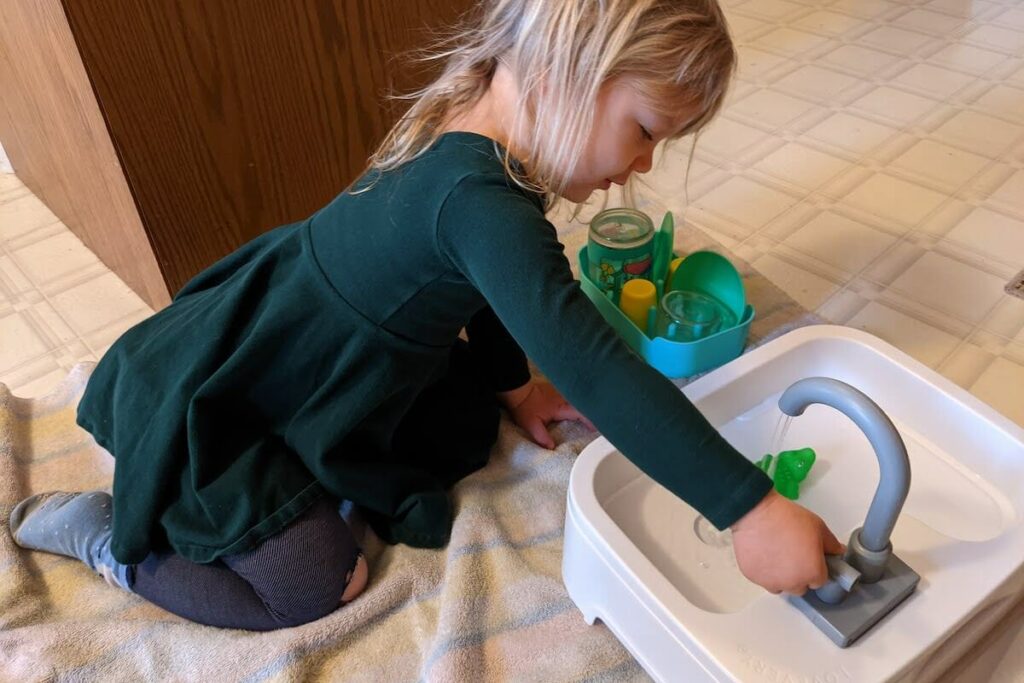 Meanwhile, Lilah looked at books on the couch and then worked with her Lovevery sink which is such a favorite. It has water that cycles through and she has the best time washing the little dishes and giving her toy animals a bath.
Thursday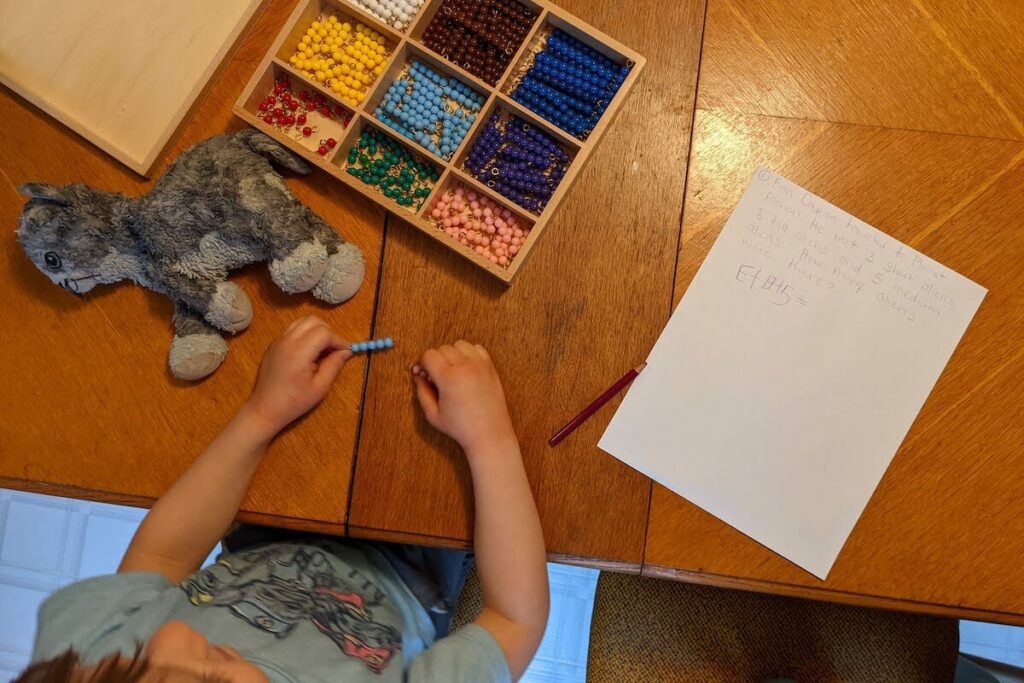 This was one of those magical days when James was excited to get started on school work. Why? Because he was so eager to continue his space project! He worked on this for most of the morning and then wanted to do some word problems.
I recently introduced simple word problems that James solves using his bead box as needed. I originally decided to introduce word problems because I think it's such an important skill but I could not have anticipated how much James loves them!
I just make up little word problems each time he wants to do them, related to whatever he's interested in at the moment. At Halloween, we did Halloween word problems and today I wrote a few worked problems about his favorite podcast/book character, Finn Caspian. Let me know if you're interested in more information/resources on introducing word problems!
Friday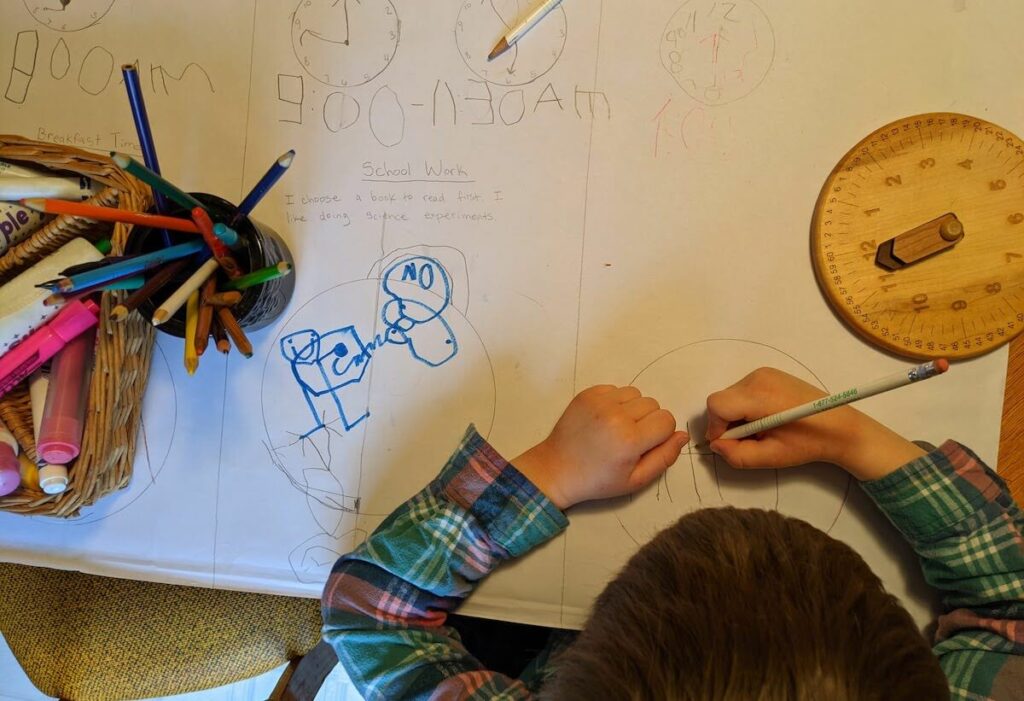 After reading books, James continued with a project we started the previous week, making a timeline of his day. We have this clock and love it. It's designed for 12 Montessori 5-bars to fit around the perimeter for the initial lesson showing children how the space between two numbers represents 5 minutes.
Today James used it to form the various times when daily activities occur (e.g., 8:00 breakfast, 9:00 school work, etc.) He then wrote the times on a poster and wrote / drew what happens at that time. As most children his age, James loves projects and this has been a fun one!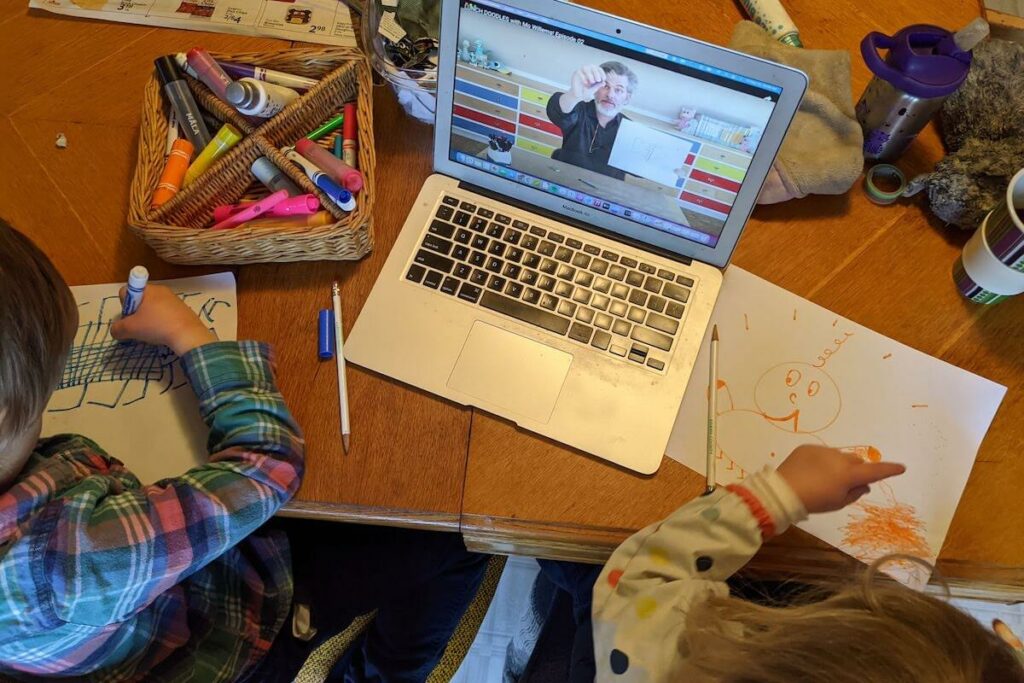 Afterward, we completed our new Friday tradition: watching one of Mo Willems' drawing videos and doodling together! James and Lilah both love the Elephant and Piggie books and are starting to get into the Pigeon books as well. Mo Willems started these videos at the start of the pandemic but we never watched them. James has only just recently gotten into drawing and artwork and I want to do everything I can to encourage it!
The videos are 20-30 minutes long but the kids are only really interested in the doodling part (the rest is Mo Willems talking about how he made his books, showing early drafts, etc.) So we only watch maybe 10 minutes of the video and then enjoy lots of time doodling together! If you have a child who is hesitant to draw or a complete perfectionist when it comes to drawing, I highly recommend these videos.
And that wraps up our week! This felt like a really good week in that both kids were eager to work and engaged all week. This doesn't always happen so I definitely enjoy it when it does!
If you have kids, what have they been most interested in learning about recently?
This post contains affiliate links. Thank you for your support!