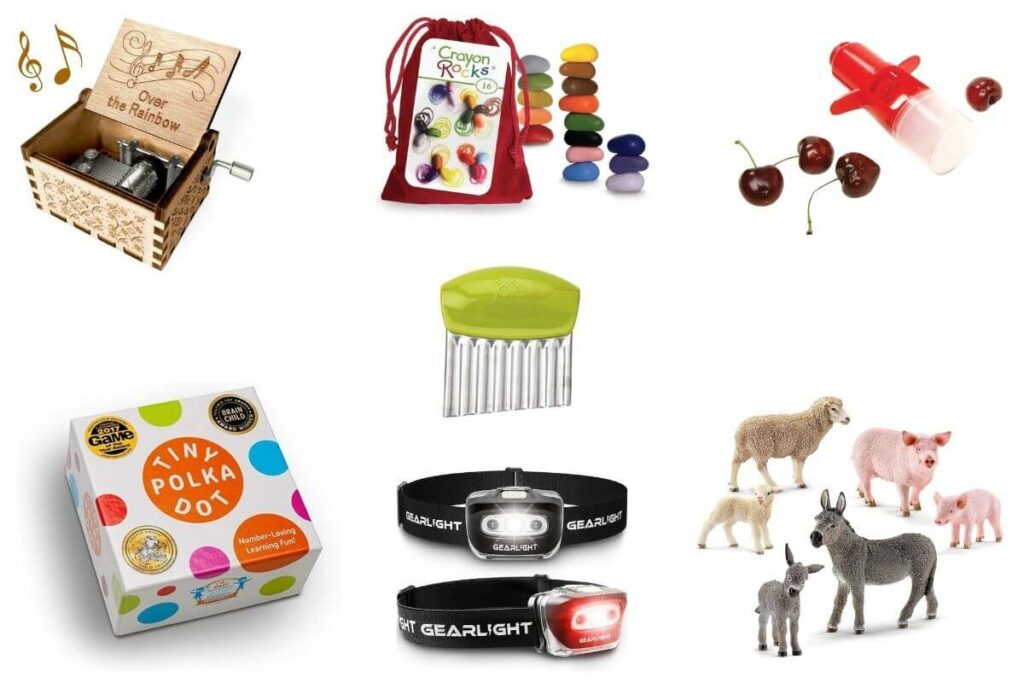 These Montessori stocking stuffers are both fun AND useful, things kids will use for months to come, including Montessori kitchen tools!
While I love everything about the Christmas season, putting together stockings has always been one of my favorite parts.
When I was in elementary school, I actually sewed a stocking for my mom and started the tradition of filling her stocking every year! (My mom always gave my dad a stocking and I realized she was the only one in the family who didn't get one!)
There are a million options for fun stocking stuffers out there but I try to opt for things that will actually get used in the months to come, rather than trinkets that will soon be forgotten.
Here are a few of my very favorite Montessori stocking stuffers, including some fun Montessori kitchen tools. I'd love to hear your stocking stuffer ideas in the comments as well!
Montessori Stocking Stuffers:
This is hands-down my favorite Montessori kitchen tool. It allows toddlers and young kids help in the kitchen in a real way. They can chop carrots, potatoes, cucumbers, etc. I always make sure to do a first cut to give them a flat surface first (e.g., I cut a cucumber in half lengthwise to they can put the flat side on the cutting board while they chop.)
As kids get a little older, you can introduce kid knives. My son has this set and loves it.
There are lots of styles of cherry pitters but I find this style is easy for kids to use. It works for olives too (which may not sound like a kid-friendly tool, but my daughter loves them).
This might sound like an odd one but a woman I used to teach with showed the kids how to squeeze a lemon, lime or orange slice into water with a garlic press. This is much easier for little hands than using a citrus juicer and a great way to encourage kids to drink more water!
Kids can peel a hard-boiled egg and then slice it with the egg slicer – this work was hugely popular when I had it in my classroom! This also works well for slicing strawberries.
The quality of these animals is so good! We have a bunch of them and the kids love them for pretend play. They're also useful in Montessori work like I Spy, Matching (you can draw or print animals to match to) and acting out sentences (e.g., "the pig is on the table").
These are not as high quality as the Schleich animals but there are tons of fun ways to use them! My kids love playing with these in the sandbox, at the beach and in the bath. They're also great for I Spy, matching animals to the continents and matching to language cards (there are tons of Montessori printables that align with the TOOB animals!) I'm planning to include the space TOOB in my son's stocking as he loves to play pretend games revolving around space exploration.
If your child enjoys sewing, new fabric, buttons, or embroidery thread are fun stocking stuffers. I love this particular resource for fabric because the pieces are a nice size and of great quality.
These are so great for kids who are working on pincer grip. Instead of constantly correcting your child on how they're holding their crayons, try taking the normal crayons and pencils off the shelf for a while and replacing with these. They naturally encourage correct grip. Crayon rocks are also great for travel!
These create the most beautiful colors! We got out paint sticks through a Lovevery kit but I definitely plan on purchasing these when the colors run out.
Magnetic words are a fun and different way for early readers to practice reading and creating stories of their own. Leave a message for your reader on the fridge each morning and invite them to leave you one in return. We use these regularly in our house!
I know I've talked about it on here before, but I'm a big fan of offering kids different types of musical instruments. So many "kid instruments" are drums or shakers but harmonicas offer a totally different way to experiment with music!
Another musical item, these little music boxes are great for children. We used to have these as a "peace activity" in the classroom.
We've had this game for years and I LOVE it! It truly grows with the child. It's a number game with different variations for 3 through 7-year-olds. My son loves it and I'm excited to introduce it to my daughter soon too.
This is another one I suspect my kids will be getting in their stockings. It gets dark EARLY here in Wisconsin in the winter and we love going for nighttime walks. A small flashlight would be great as well.
This post includes affiliate links, thank you for your support!