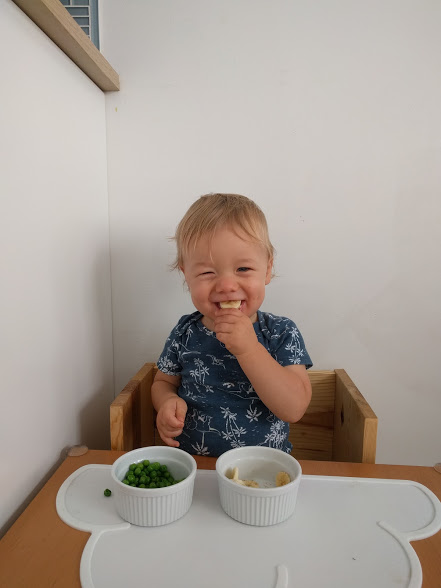 I wrote a little bit about our Montessori weaning table here, but realized I hadn't given an update in quite some time.
We have both a high chair and a little child sized table and chair for James, and we use both almost every day.
At first, we used his little table for all of his meals, but as we started eating meals as a family, James joined us at the big table for breakfast, lunch, and dinner.  There is no way the three of us could comfortably sit at his little table together.
I use his little table pretty much every day though for his afternoon snack.  I love several things about this.
He can participate in setting the table.  Right now, he just watches me get things from his kitchen drawer, but I'm sure he will be helping with this before long.  I love that he can see the whole process, from set up through clean up.
He can get up when he's done eating.  The rule is that the food stays at the table, but when he's done, he can get up.  I think it's a good experience for him to practice staying at the table until he's done eating, by choice rather than because he's strapped in.
He can help clean up!  This may be my favorite thing about his weaning table.  If he spills something in the high chair, there's no way he can help clean up the mess on the floor.  He may not even see the mess on the floor.  If he spills something in his little chair though, he can see the clean up process, and will sometimes help.  Last week, he spilled his bowl of Cheerios and helped me put them back in the bowl.  I'm not sure how much of this is his desire to help versus his love of putting things in containers, but I'll take it 🙂
If I can ever make it to IKEA, I want to get another little table for his playroom.  Hopefully that will happen soon!
How do you do meal times and snack times for your kids?
What's your favorite snack?