DIY Montessori Toys are a great way to introduce your child to custom-made, inexpensive, engaging toys. Perfect for babies & young toddlers.
Good morning!
I wanted to share a few really easy DIY baby toys today.  Readiness of course depends on the individual child, but I would say these would generally be good for a 10-15 month old.
I am not crafty (at all), but I love creating toys for James for a few reasons.  For starters, it is a very budget-friendly way to give your little one something new to play with.  I also love that it allows me to give him something perfectly suited for his current interests and abilities.
For the last couple of months, one of James's all time favorite things to do is what I would call insert work – basically putting things in containers.  You;ll see that a lot of the toys I made him revolve around that skill, at different levels of difficulty.
Also, I should add that I did not come up with most of these ideas.  I browsed various Montessori sites to get ideas before going to Hobby Lobby.  In general, I love both How We Montessori and The Kavanaugh Report for ideas on Montessori baby / toddler work at home.
Simple DIY Montessori Toys for Babies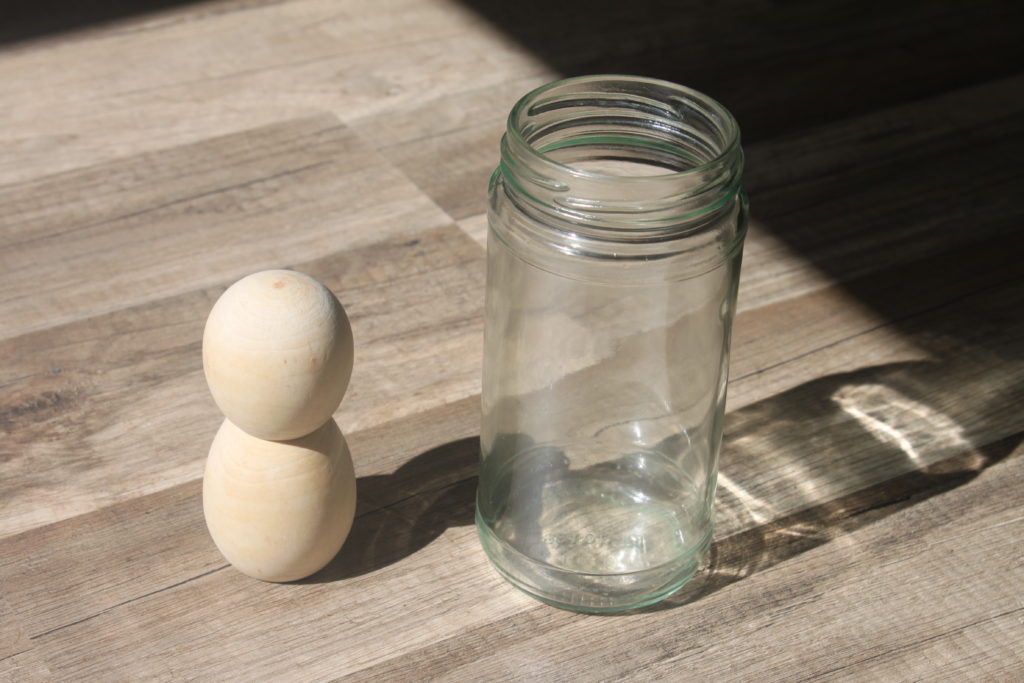 1. Basic Insert Work
This is as simple as it gets, just a pleasing object and a container to put it in / take it out of.  I don't even know what this wooden thing is, but the shape was nice and I knew it would fit nicely in a jar I already had.  I made two other very simple insert works like this for James, one with a little yellow wooden ring in a small circular box and one with a large cardboard egg in a large cylindrical box.  These would not all be on the shelf at one time, but having three options allows me to switch them out when he masters one or gets bored.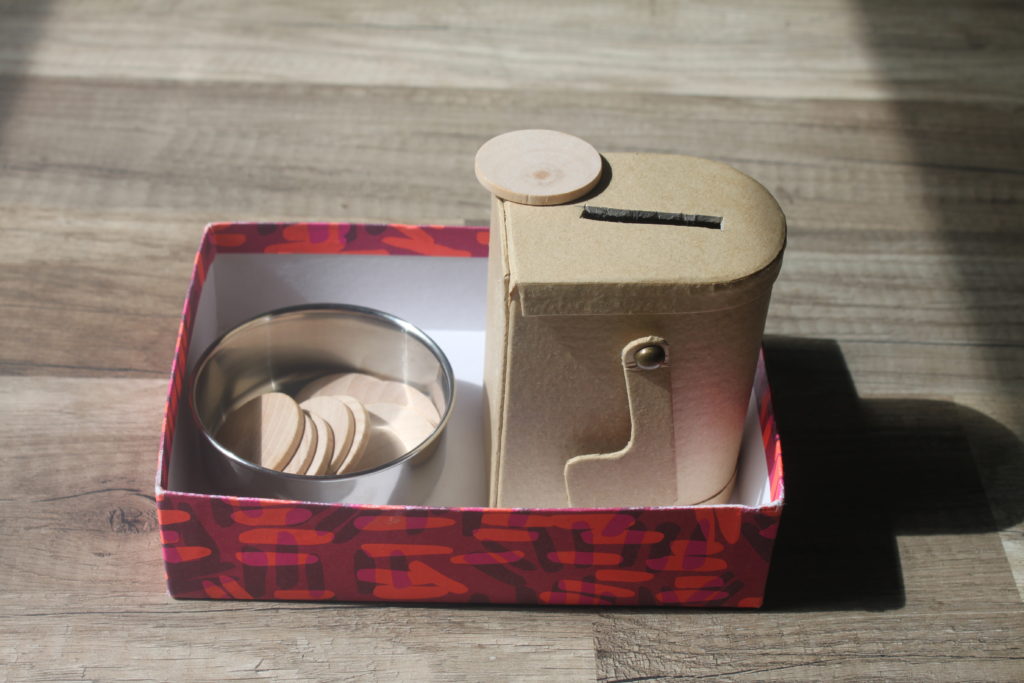 2. Mailbox Insert Work
This is the same concept, but considerably more difficult.  All you need is a container with a hinged lid that you can make a slit in, and some discs that will fit through the slit.  I used a cardboard mailbox from Hobby Lobby and made the slit with an xacto knife.  I used wooden discs to insert.  This would be nicer and more durable with a wooden box, but I wasn't sure we had a tool to make a slit in wood.
This sat on James's shelf for a couple of weeks before he showed much interest.  Then he wanted me to put the discs in, but would not try it himself or would try it briefly and get frustrated.  Just last week though, he became super interested in it and put the discs in and took them out over and over again.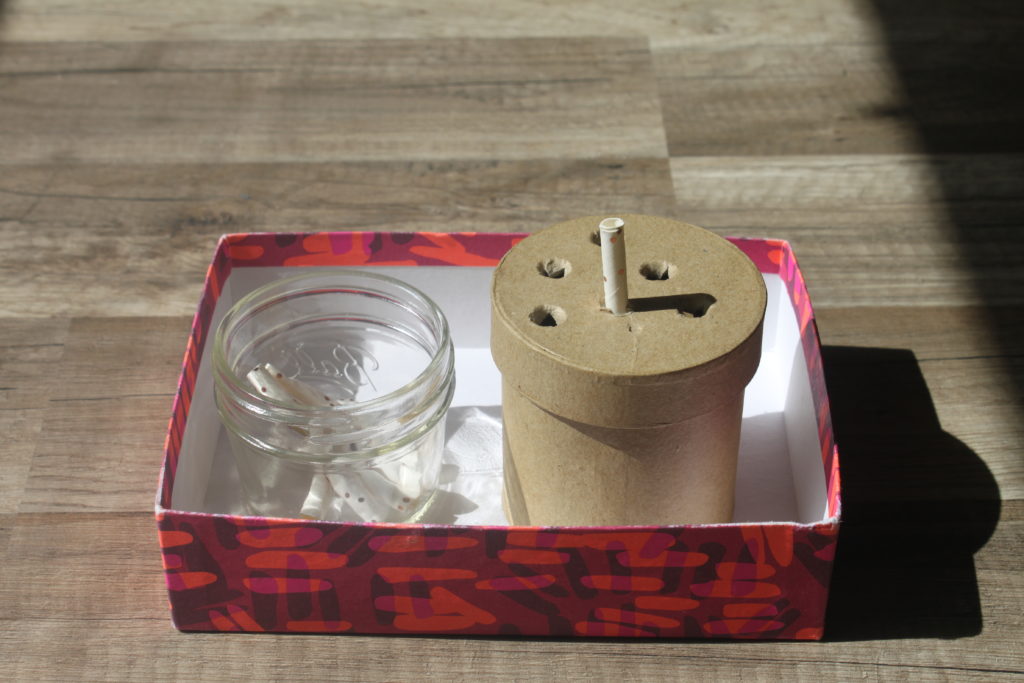 3. Straw Insert Work
This one is also super easy to make.  I simply poked holes in the lid of a cardboard box and cut up little straws for James to put in (pipecleaners should work too).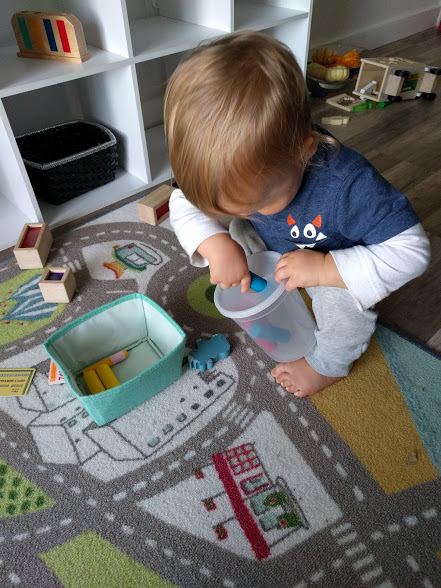 4. Peg Insert Work
This is the latest, and probably has been James's favorite of all of the things I've made for him recently.  I simply made a hole in a (clean!) soup container from a restaurant and used pegs that are part of a hammering set he was given.
To say he loves this would be an understatement.  From the moment I gave it to him, he was enthralled and does it again and again and again.  The only downside is that he cannot take the lid off of the container if it is on tightly, so it's not always completely independent.  It try to put the lid on loosely so he can do it himself, but a container with a hinged lid would be better.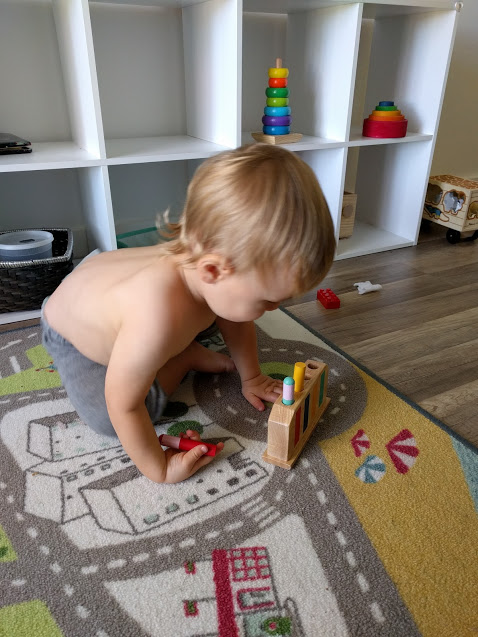 After practicing this for a week or so, James also became entranced with putting the pegs in his pop up peg toy, which is more challenging because the holes are smaller.  (Previously, he would take the pegs out, but not try to put them in again.)  Giving him an easier version helped him improve the skill he was working on so he could be successful with the more challenging one.  I geek out over watching things like that – development in action 🙂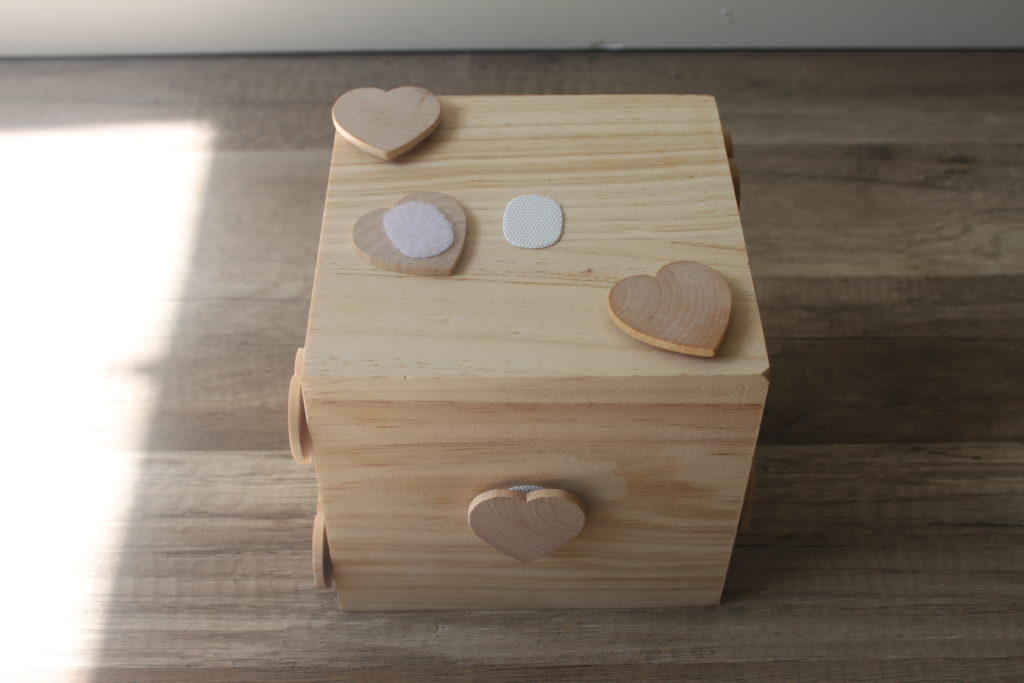 5. Velcro Heart Box
I can't remember where I found the idea for thie but I really like this one. James hasn't shown much interest in it yet though.  I'll probably put it away and try again in a month or so.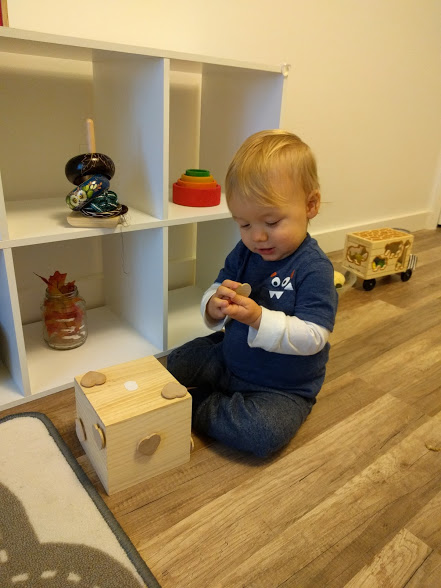 This is a simple wooden box I found at Target with wooden hearts attached with velcro stickers.  Baby can take them off and stick them on again.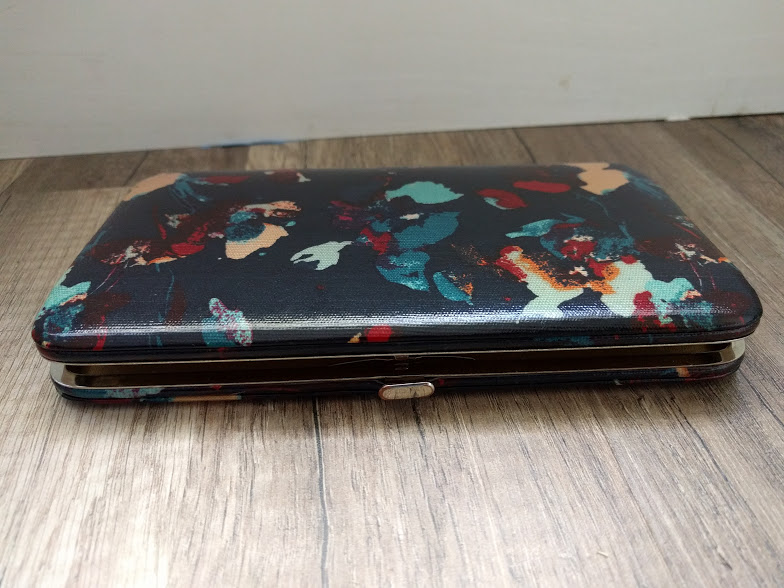 6. Wallet with Cards
Is anyone else's baby obsessed with credit cards?  James is not a big fan of running errands, but LOVES taking the card out of the machine when I pay.  One day he got my wallet from my purse and spent almost an hour taking the cards out and trying to put them back in.  I knew I had to make a version of this activity to put on his shelf.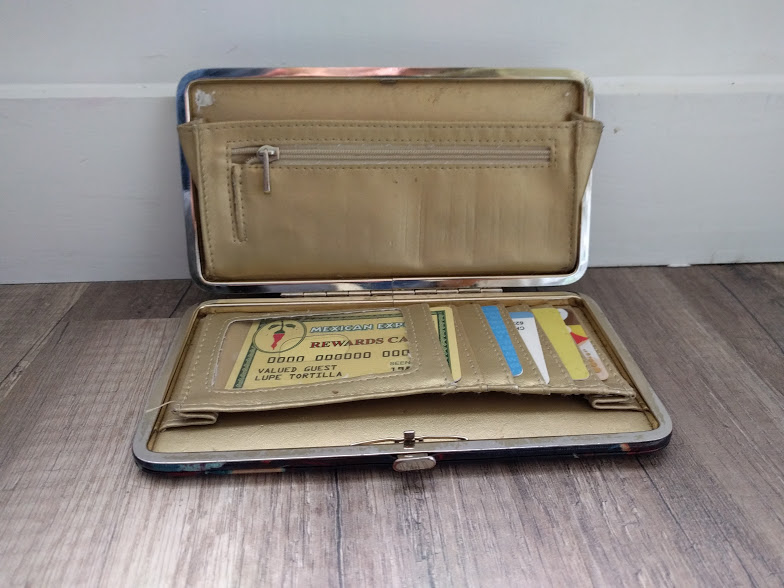 I took an old wallet and filled it with old gift cards and rewards cards (cards from back when I went shopping, for myself….).  This was so simple and so fun for him.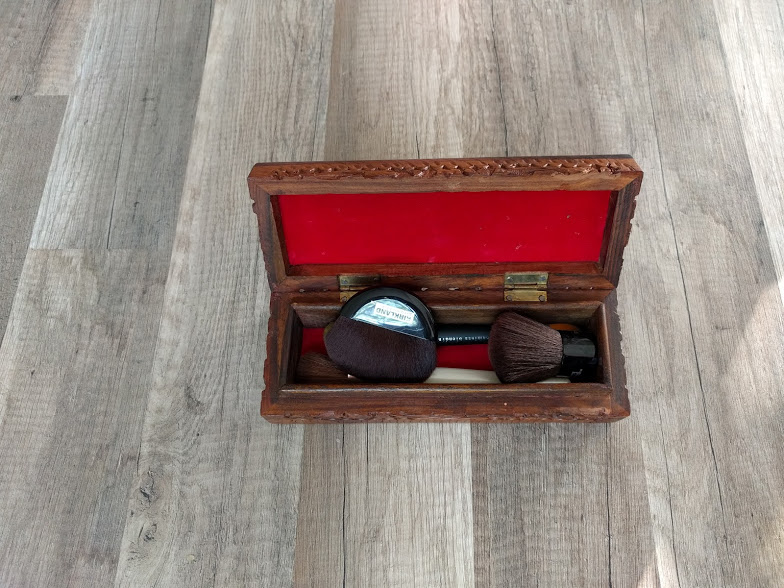 7. Makeup Brush Treasure Basket
A "treasure basket" is any collection of objects your baby might be interested in, put together where he can access them.  For example, I used to have a bowl of interesting kitchen objects James would play with while I prepped food.  These are really great for babies who aren't yet mobile, but I still put them together for James from time to time when I stumble upon something he might be interested in.
He generally likes brushes of all kinds, so when I was cleaning out my makeup and jewelry and found this set of makeup brushes, I put them together in a wooden box for him to enjoy.  doesn't get much simpler than that!
Are you crafty? (I am so not, but wish I were!)
Do you have any Montessori DIY Toys you love? Please share!