Looking for Montessori baby books about food? These are my very favorites and are great for sparking interest and building vocabulary.
Giving children the tools to learn more about their world is a huge part of Montessori for every age.
For babies, a big part of their world is learning all about food. This is why I have a particular love of Montessori baby books about food.
What do I mean by "Montessori baby books"? I mean books that include either photographs or beautiful realistic illustrations, books that depict reality.
There is a certain stage for babies when they have such a strong interest in food, even if they can't yet eat solids. You'll notice them watching you chew, perhaps reaching for your food, and just wanting to be with you while you eat, wanting to be as much a part of the experience as they can.
I love introducing board books about food at this stage.
What to Look For in Montessori Baby Books About Food
So how do you find the perfect Montessori baby book about food?
As I mentioned above, I love having a mix of books with photographs and beautiful illustrations.
Books that mix familiar foods with new foods are also great because they're interesting and build vocabulary, while still being relatable. I love when a board book includes a fruit or vegetable I myself have never heard of!
If you want to stick to Montessori books, you'll want to avoid any books with super cutesy images (think toast with eyes, celery running across the table, etc.) This can be surprisingly hard to do, so I've rounded up a few of my favorite Montessori-friendly board books all about food.
I should mention, these books are highly appealing to toddlers and young children as well. My 2.5 and almost 5 year old still love some of these books we got when they were babies!
My Favorite Montessori Baby Books About Food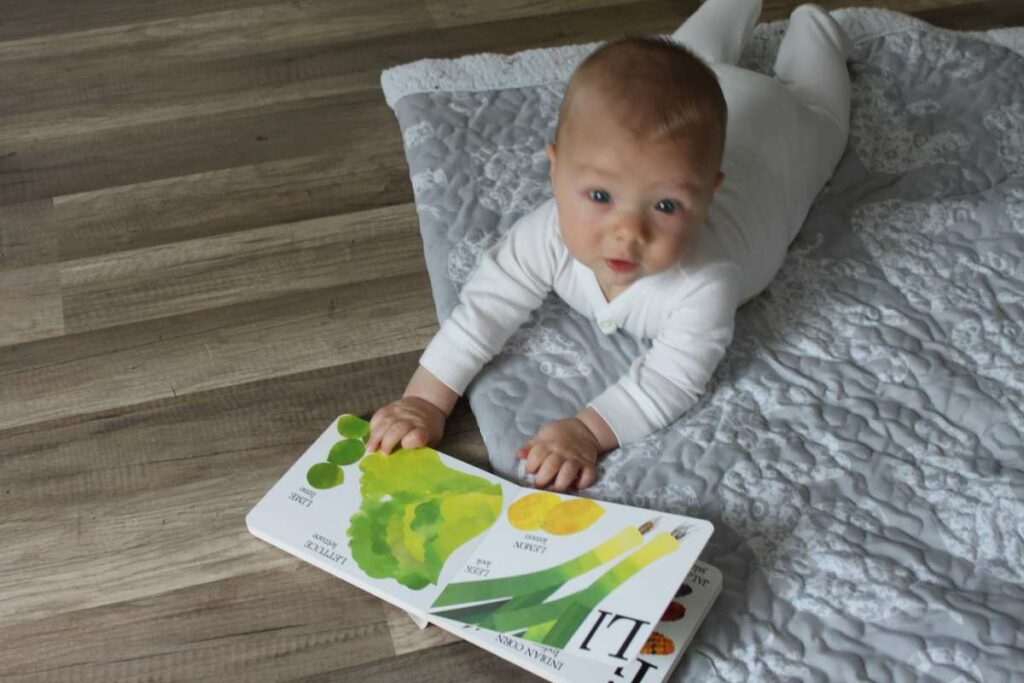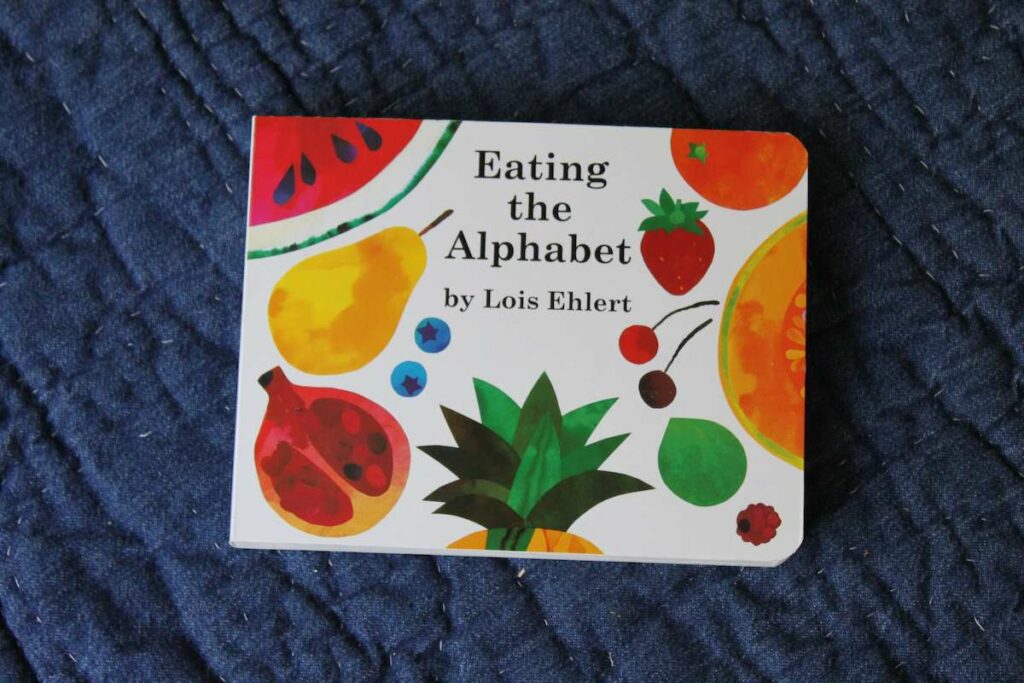 Lois Ehlert's Eating the Alphabet is one of my all-time favorite board books. The illustrations are beautiful and it includes a wonderful array of different foods. My kids have loved this book as babies and toddlers alike.
It does have letters on each page, but we didn't really use the alphabet aspect of the book as not all of the foods start with the phonetic sound of the letters. (If you're looking for a phonetic alphabet book, you can find mine here!)
One thing that's great about this book is that it includes familiar foods as well as more exotic ones like kohlrabi, figs, and persimmons.
I actually think it would be super fun to use this book for a scavenger hunt of sorts with a toddler / young child. You could choose a few new foods to try each week and search for them at the farmers' market or grocery store.
Next up is Eating the Rainbow. This one shows different babies and toddlers from around the world eating a variety of foods. I love this one because it combines babies' interest in faces with their interest in food.
The foods are organized by color and the images are nice.
Written by Jennifer Vogel Bass, Edible Colors just might be my very favorite of the bunch. The pictures are so beautiful and it includes the detailed name of each food, such as the specific type of cherry or potato depicted.
My son in particular was obsessed with this book as a young toddler. (We hadn't discovered this one yet when he was a baby but I think he would have loved it then too.) He learned all of the specific names of the foods in the book and was so focused each time we read it. He actually still likes this book and he's almost 5!
Homemade Baby Books About Food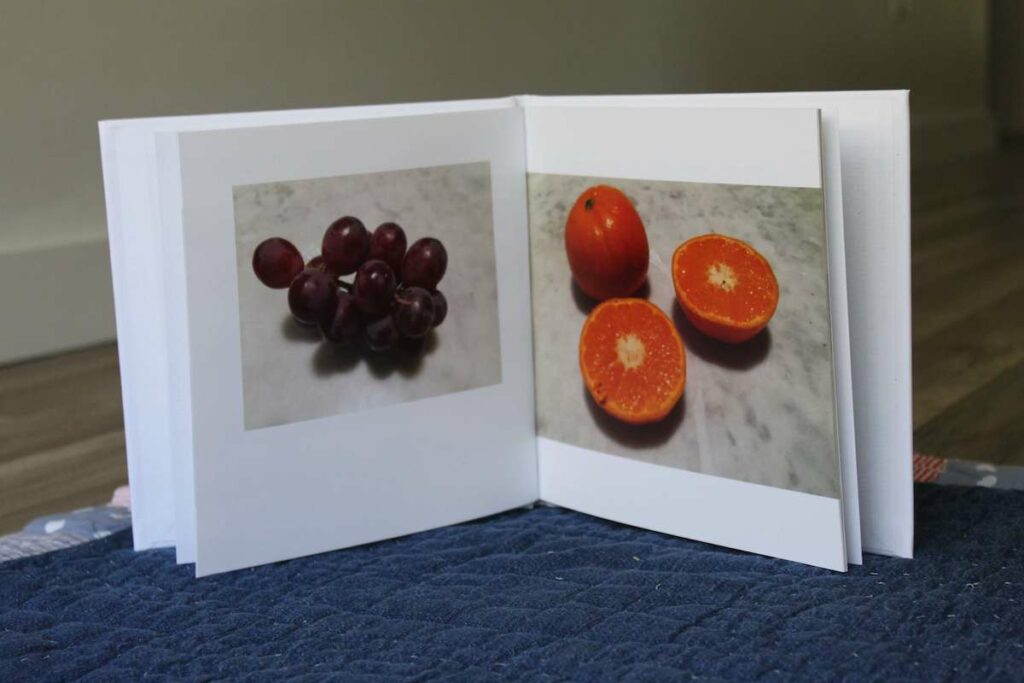 Finally, I cannot leave out the beautiful book my mom made for James, all about different foods.
She purchased a bunch of beautiful produce from Whole Foods, photographed it, and created a book on Shutterfly. So creative and fun!
This is the best book, not only because it is homemade, but because the images are clear and vibrant against a white background, the best for baby to see. It only has one food per page, which I think is ideal for a baby. It is simple and full of foods he is likely to eat in the early days.
I think this would be particularly amazing to do if your family eats a lot of foods not pictured in typical baby books or if your child's heritage includes another country or culture you want to introduce them to.
More Montessori Baby Books About Food
Here are a few more books about food that I don't actually own, but look beautiful and interesting:
My First Book of Food has a beautifully simple layout I love. It does look like it features more "treat" foods, so it may be more suited to toddlers than babies, who aren't likely to eat those foods for a while.
Do you have any Montessori baby books about food you love?
I'd love to hear about them, please share in the comments!
This post contains affiliate links. Thank you for your support!