Homemade gifts for kids are so meaningful and they don't have to be difficult! These personalized books for my kids were such a hit!
When I was a child, my mom frequently made us homemade gifts. She sewed us bunnies for Easter, crocheted a blanket for my sister and decorated t-shirts for us for Valentine's Day. These presents were so meaningful to me, I still remember them today!
As important to me as these gifts were, I haven't created as many homemade gifts for my own kids as I would like. This is quite simply because I'm not at all crafty and enjoy the idea of crafting much more than actually doing it.
That said, I did make a homemade gift for each of my children last Christmas that I was actually quite proud of! It's perfect for anyone who wants to make a meaningful, homemade gift, but isn't actually into crafts.
(By the way, I know it's quite early to be thinking of holiday gifts but, while easy, this one does take some time so I wanted to share it early!)
Homemade Books for Kids
As many children do, each of my children has a special stuffed animal they love. My son has "Cat Buddy" and my daughter has "Mimi Bear."
Last year, I created a book for each child with a story about them and their beloved stuffed animal.
To say they loved the books would be an understatement! They were a big hit on Christmas morning and both children have continued to love the books throughout the year. I also imagine they will love them as adults, when they can look back and catch a glimpse of what their childhood love for these little toys was like.
How I Made the Books
Actually making the books was quite simple, though it did take a bit of time. I used Mixbook and had a great experience but you could use any of the photo book sites out there! When ordering photo books, I always wait for a sale as most of the sites periodically offer substantial sales. This is one reason I like to make these gifts early, so I can take advantage of any Black Friday sales to order!
I had a general idea of what I wanted to do for each book. I knew I wanted to do some sort of space story for James's book because he loves anything related to space and because I had recent photos of him with Cat Buddy in a cardboard box-rocket he made.
Lilah was not quite 2 years old for Christmas last year so I kept her story a little simpler, focusing on day-to-day activities.
Once I had a general idea of the stories, I staged each of their stuffed animals doing various things and took photos. This was so silly and fun and I got my husband in on the action as he's a much better photographer.
The trickiest part of this whole process was getting Lilah's Mimi Bear away from her for long enough to take photos! She's quite attached to that little bear 🙂
After I uploaded the photos, I flushed out the details of the stories, ordered the books, and that was that!
This really was so easy, fun, and meaningful for my kids.
Here are some snapshots from my son's homemade book: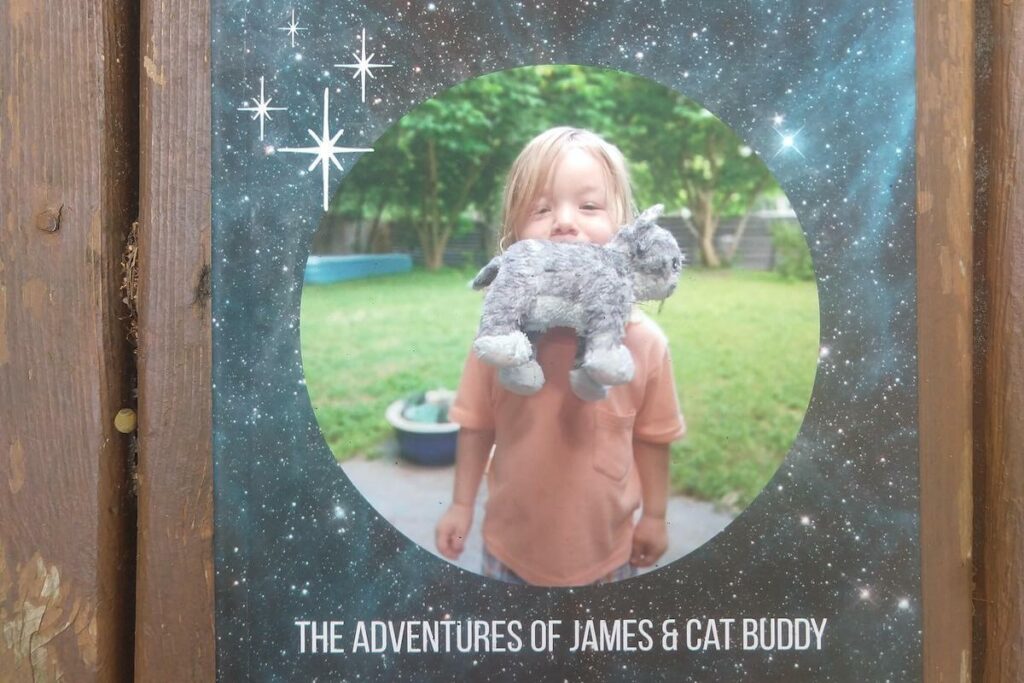 And here are some images from my daughter's book: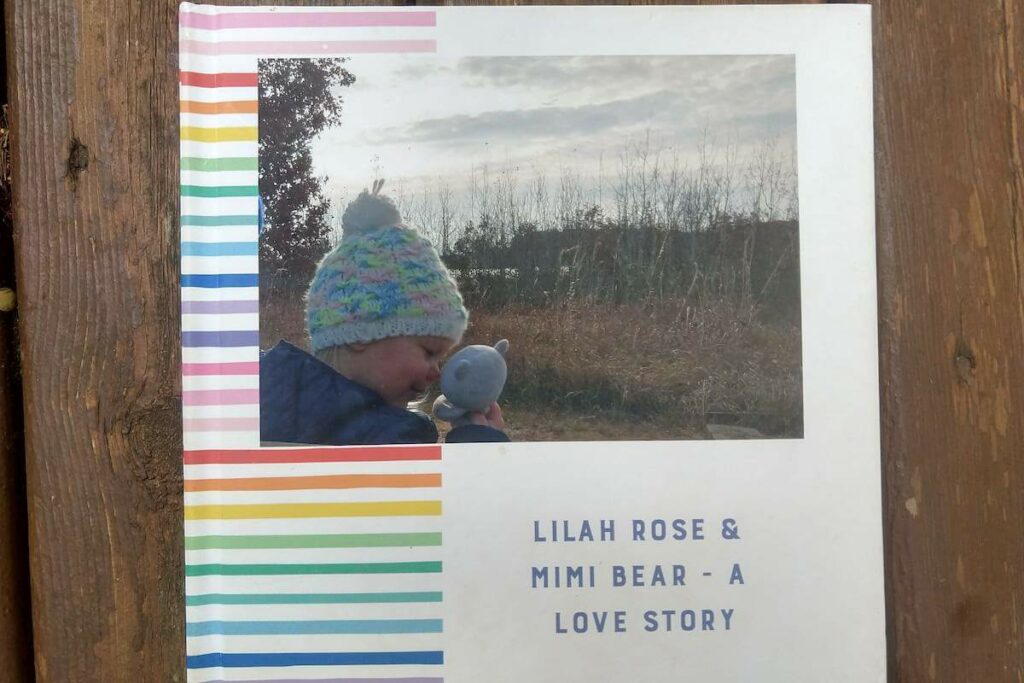 Other ideas for homemade books:
I've actually done a few other photo books for kids, each of which was a hit. Here are some more ideas:
For Babies: I talk more about this

here

but my mom actually made a photo book all about food for James when he was a baby. He loved it!
For Toddlers: The idea for my

Montessori abc book

originally came from a book I made James as a young toddler. I couldn't find a Montessori alphabet book that was exactly what I wanted. So I made one! Another fun one for toddlers would be a photo book all about your daily routine.
For Older Kids: I actually made a photo book gift for one of James's best friends too. We don't live close by anymore so we gave him a photo book full of images of the two of them and he seemed to really like it! I plan to do a photo book portfolio for James and Lilah's school work too at the end of the year, though that's not so much a gift.