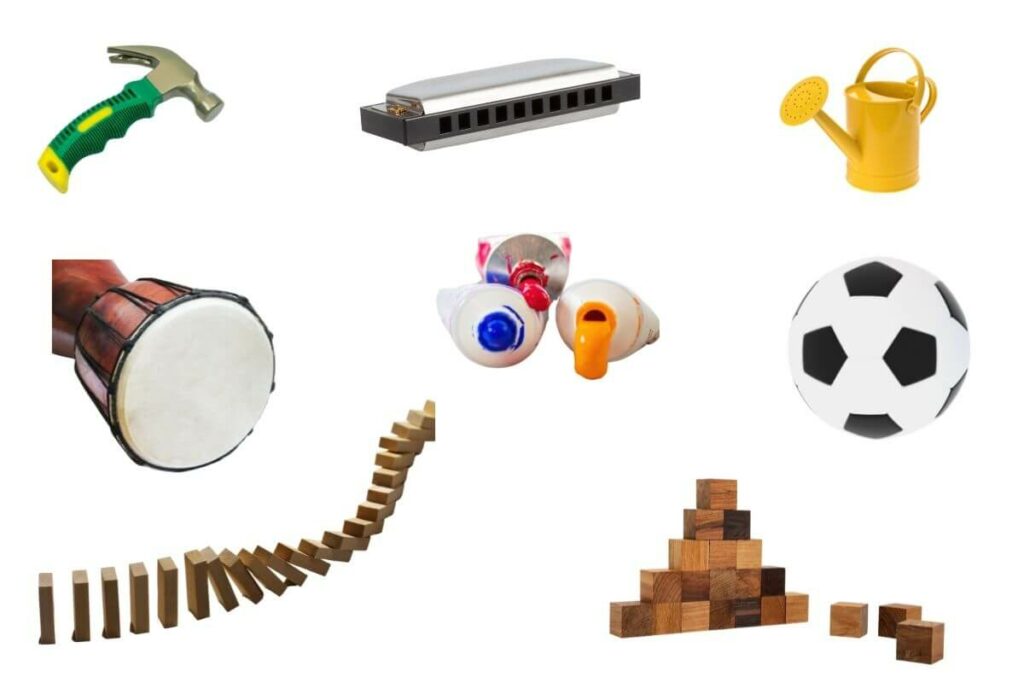 Montessori toys for 5-year-olds make the best unique kids birthday gifts. They're beautiful and encourage creative thinking & play!
My son, James, is turning 5 in just a couple of weeks. I've of course been putting a lot of thought into what kinds of birthday gifts to give him this year, which inspired me to compile this list of Montessori toys for 5-year-olds!
(Many things on this list would be great Montessori toys for 4-year-olds as well, as I included items he has and loves right now too.)
Also, don't feel like you have to be a Montessori parent to use this guide! I really tried to focus on engaging toys that provide joy over the long term, which are really what make the best presents for 5-year-olds or loved ones of any age.
I hope you find something you love!
What makes a Montessori toy?
So what exactly is a Montessori toy?
I'm not talking about Montessori materials or work you would find in a classroom here, but rather toys that are in line with Montessori principles. Personally, these are the things I think about when considering Montessori toys, for any age:
High Quality & Beautifully Made: Montessori definitely focuses on quality rather than quantity and I think this can extend to toys as well. Providing children with quality items and showing them the proper way to care for them is more meaningful than showering them with tons of "throwaway" gifts.
Encourages Creativity: From art supplies to musical instruments, there are SO many beautiful gifts that encourage creative expression.
Sparks Curiosity: One of the best gifts we can give children is to do whatever we can to keep their natural curiosity alive. A toy doesn't have to be directly educational to spark curiosity, it could be as simple as a new set of blocks that challenges them to think in a new way.
Facilitates Deep Learning: To me, this might be the most fun sort of gift to give. Again, this doesn't have to be something you would find on a school shelf, but rather something that appeals to your own individual child's unique interests. For my son, this might be a gift that helps him learn more about space or an engineering-type gift as he has always loved to design and build.
Doesn't Rely on Passive Entertainment: With passive entertainment, I'm talking about toys with a lot of buttons that sing or dance, etc. It can be hard to resist toys that provide passive entertainment because they can definitely elicit the "wow factor" response from a child opening a birthday gift. But, the thing is, these toys don't generally provide a lot of enjoyment in the long-term and they definitely don't do anything to help children develop skills or character.
Montessori Toys for 5-Year-Olds
Now that we've settled what qualifies as a Montessori toy, on to the list! Please share your favorite Montessori toys for 5-year-olds in the comments too. I always love to discover more creative gift ideas!
Musical Instruments
Both of my children love playing music together and these little "jam sessions" are just as fun as they are noisy. I love giving musical instruments as gifts because they're truly something children can enjoy for years. They also have the added bonus of being a very fun gift to receive, that's also great for brain development and creative thinking.
Here are a few of my favorite instruments for kids:
African Drums

: the quality and craftsmanship on these is just beautiful. My children have enjoyed playing African drums at my parents' house and I love that these are real instruments that make different sounds depending on how you hit them. We also have and love these

bongo drums

!

Harmonica

: It can be hard to find non-percussion instruments that actually sound good when little kids play them. While there is of course skill involved in learning to actually play the harmonica, children can make pleasant, interesting sounds right away. My son actually received a harmonica for his 4th birthday last year and both he and my daughter still love it!

Thumb Piano

: This is another beautiful one that I plan to add to my children's collection soon!
Real Life Tools
Montessori classrooms have a "Practical Life" section dedicated to empowering children to master every day skills.
Practical Life can of course go even further if you're doing Montessori at home and can inspire some really fun gifts for children!
Below are a few of my favorite real life tools, perfect for Montessori 5-year-olds. For all of these, you could either purchase a set or assemble your own, full of things you know your child would love.
A Woodworking Set: My son is receiving

this one

for his birthday and his Dad is excited to work on fixing up our treehouse with him!
Gardening Set: A set of

gardening tools

makes a great gift for a child who loves working outside with you. When I was a kid, my mom gave each of us our own little garden, took us to the plant nursery and let us choose what to plant there. I have the best memories of this and think this would make a lovely gift!
Building Toys
Of all of the toys we've acquired over the years, building toys are always the favorite in our house. Legos are number one with my kids with Magnatiles coming in second but I love having a variety of blocks and building materials. My children combine them in different ways and it's one of the things they both enjoy playing with pretty much every day!
Here are some beautiful block sets, all of which are perfect Montessori toys for 5-year-olds:
Games & Puzzles
In addition to being just plain fun, games and puzzles are excellent for logical & strategic thinking and puzzles are also great for encouraging increased focus. I'm actively looking to add to our board game collection so if you have any favorites for little kids, please let me know!
Outdoor Toys
For my son's third birthday, we surprised him with a bit of a backyard overhaul by setting up a swing, climbing dome and playhouse out there the night before his birthday. He was SO excited the next morning and, as a family who loves to be outside pretty much all of the time, we spent many happy hours playing out there.
This is a really fun thing to do for a child of any age! Here are some fun Montessori-friendly outdoor toys, great for 5-year-olds:
Pedal Bike

: My son loves riding his bike and this is the one he has. The quality is great and it comes with a set of stickers so your child can decorate and personalize their bike, which my son loved!
Soccer Goals

: Anything encouraging outdoor play is a great for 5-year-olds and that extends from nature exploration to sports. My kids received these soccer goals for Christmas last year and I love that they fold up for easy storage. A kids

golf set

,

croquet set

, or

baseball set

would also be great.
Art Supplies & Creative Play
Anything that encourages creativity is a win, whether you're specifically looking for Montessori items or not!
When it comes to Montessori-style art for kids, the focus is on the process rather than the end result so beautiful art supplies that support open-ended creations are ideal.
Play Dough Set: To be honest, art is not always something my son gravitates toward but he does love play dough, which is also great for creativity! I was recently sent some of this

beautiful play dough

to test and it's lovely. I really like the muted colors. It would be a great gift with some new play dough tools

like these

!

Easel

: This would definitely be a splurge but I think this easel is so beautiful! A normal (more budget-friendly)

easel

is also a great gift.
Etc:

Oil pastels

,

water color pencils

or

real canvas

to paint on all make wonderful Montessori gifts for a child.
One note – even if you "do" Montessori at home, don't feel obligated to only purchase things for your child that are considered Montessori. In addition to some of the items I mentioned above, we're gifting my son this Lego Robot Set for his birthday. It's plastic (as opposed to materials like wood, cloth & glass preferred in Montessori) and it's meant to be used with an app to program the robot, so isn't screen-free.
Despite those things, I know this will hands-down be my son's favorite gift. Plus, while it does involve plastic and screens, it also encourages new ways of thinking and will introduce him to early coding skills so it's a win in my book!
I hope you find something you love for your 5-year-old on this list! I would love to hear any Montessori toys for 5-year-olds you love as well, please share in the comments!
More Montessori Resources
Looking for more? Check out 5 Parenting Lessons I Learned as a Montessori Teacher or 5 Questions to Ask When Choosing a Montessori School.
This post contains affiliate links, thank you for your support!