Tiny Earth Toys offers a rental service for sustainable toys. Rent high quality, Montessori friendly toys and then return them when done!
I'm so excited for today's post because I'm sharing a wonderful company I just discovered and already love!
(Note: This post is not sponsored but I did receive a complimentary two months of Tiny Earth Toys to review. I suspect I'll order more kits in the future with my own money though and you'll see why below!)
What is Tiny Earth Toys?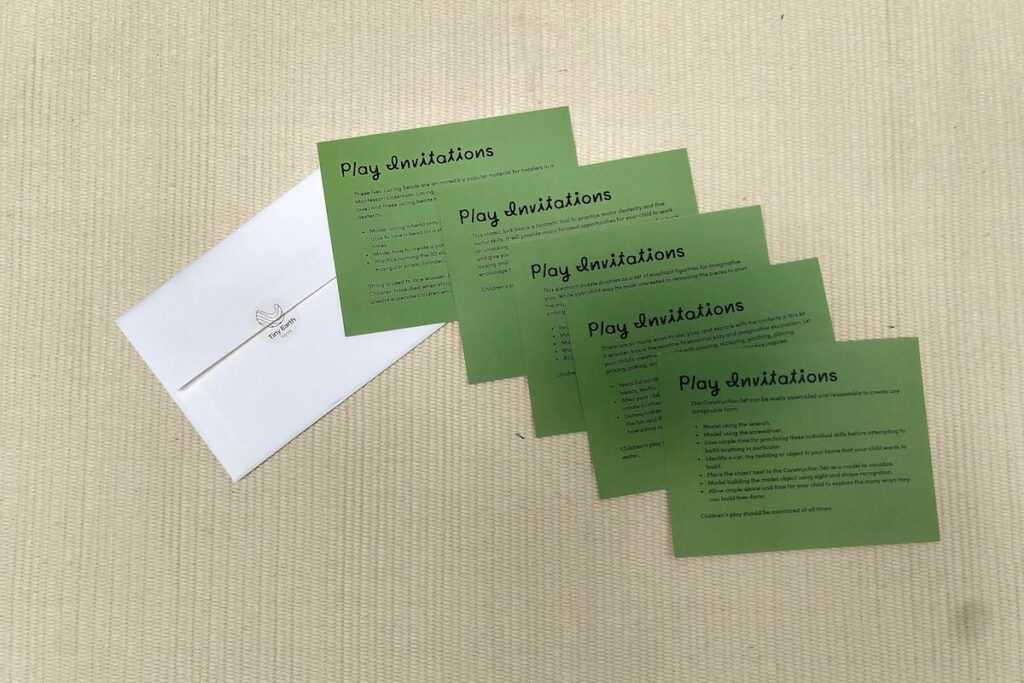 I have read about toy libraries in the past and always wished I lived near one but I honestly think what Tiny Earth Toys offers is even better, just because of the quality.
Tiny Earth Toys is a Montessori toy subscription rental service. They offer beautiful, sustainable toys for birth through 4 years old to rent. Even though their toys technically end at 4 years old, my newly turned 5-year-old really loved several of the toys we received!
You can choose from several toy rental options based on the number of toys you'd like to receive and whether you're renting toys for one or multiple children. You can also choose a Custom Kit, which is what we did. I chose custom for two reasons.
First, as a Montessori parent, we do already have some Montessori toys so I wanted to make sure we didn't receive something we already had. Second, since James is at the high end of the age range for the toys, I wanted to select a couple of items I knew he would enjoy as well. Choosing the toys was super fun!
Once you select a kit option, you either enter the child's age or select your toys depending on which kit option you selected. Our toys arrived quickly and came with beautiful cards giving suggestions for play, which I loved.
The kit also comes with a prepaid shipping label and you ship everything back in the box it came with, along with the same packaging. I really loved that there wasn't a bunch of excess packaging to dispose of. Great for sustainability, as well as convenience!
Why I Love Sustainable Toy Rental
I love toy rental for several reasons, the first of which is it is so much better for the environment. I've always struggled with wanting to provide engaging, age-appropriate toys, but not wanting to purchase things I know my kids will only use for a few months. Sustainable toys are important, but they can also be quite expensive. The option for renting these beautiful toys solves the problem!
This is never more true than with babies! They change and develop so quickly. Tiny Earth Toys even offers several of the Montessori mobiles for babies. I so wish this had been available when James and Lilah were babies! This would be such an amazing gift for expecting parents.
Second, as I've mentioned on the blog, we're in a bit of a transition period. We've sold our house in Austin and are currently staying in my husband's parents' lake house, as my husband and I both work remotely and haven't yet decided where to live next. This has been amazing in so many ways, but I have struggled with wanting to have interesting toys for my kids, but not wanting to buy a bunch of stuff when we're not in our permanent home.
This is especially true for my toddler, Lilah. My son has a life-long love affair with Legos and, fortunately, those do not take up a lot of space. Also, he spends a lot of our time at home doing Montessori homeschool. We tend to spend other free time outside or on local adventures. I've never felt like he had a lack of toys here.
My daughter is one of the most naturally content children you'll ever meet. She is totally happy to wander around singing songs to herself, looking at books and playing pretend games with whatever is laying around. This is amazing and I love her natural creativity and imagination, but I do still want to provide her with toys that will engage her and challenge her to think in new ways. This was my primary goal when selecting toys for our custom kit.
Our Experience with Tiny Earth's Sustainable Toys
When I first heard about Tiny Earth Toys, I loved the concept right away. It wasn't until I actually checked out the toys though that I was really blown away. The toys offered are wooden (NO plastic!), Montessori-friendly, and so beautiful. I had a hard time choosing just 5 for the custom kit and definitely look forward to trying more in the future.
When we received the toys, they were totally clean and like-new. Here's a peek at the sustainable toys we tried in our first kit:
Our Montessori Toy Subscription Selections:
Wooden Elephant Puzzle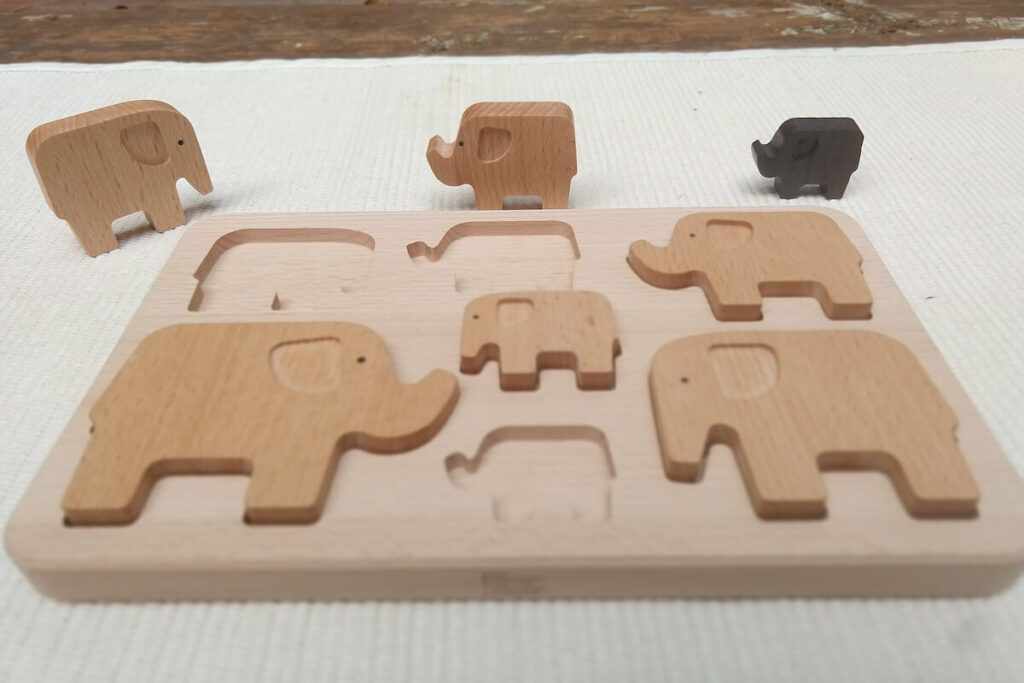 I love this puzzle for so many reasons. First, it's beautiful! There are so many puzzles out there, but nothing beats the craftsmanship and details of wooden puzzles like this one. Still, I always hesitate to buy them because my children usually do a puzzle a few times and then move on. This is why I was so excited to rent this one!
Despite the size of the pieces, the fact that the elephants are so similar apart from their size makes this perfectly challenging for toddlers. I also love that the elephants can stand up and be used for imaginary play! My daughter loves creating pretend games and really enjoyed playing with the elephants.
Wooden House Lockbox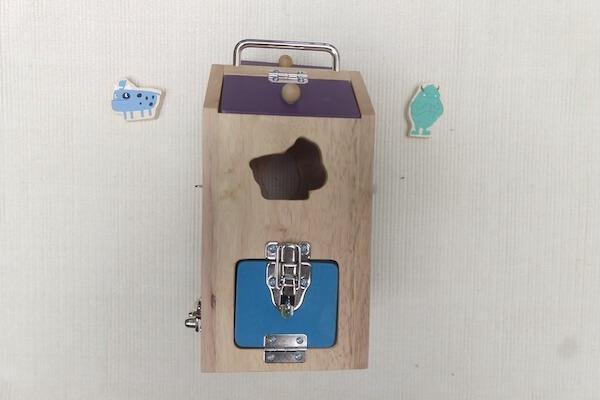 I suspected both of my children would enjoy this lockbox and they did!
It's different from other similar toys in that it's set up as a house, again, inviting the pretend play that children this age love. I found this really extended the time my children enjoyed playing with this.
It does come with two small, friendly monster figures, which I don't mind, but of course, aren't really "Montessori". You could easily just pack these away and provide little people figures for your child to use with the house if you like. My daughter brought her little people over to use with the house on her own and enjoyed tucking them up for bed in the house before locking the doors!
Wooden Bead Stringing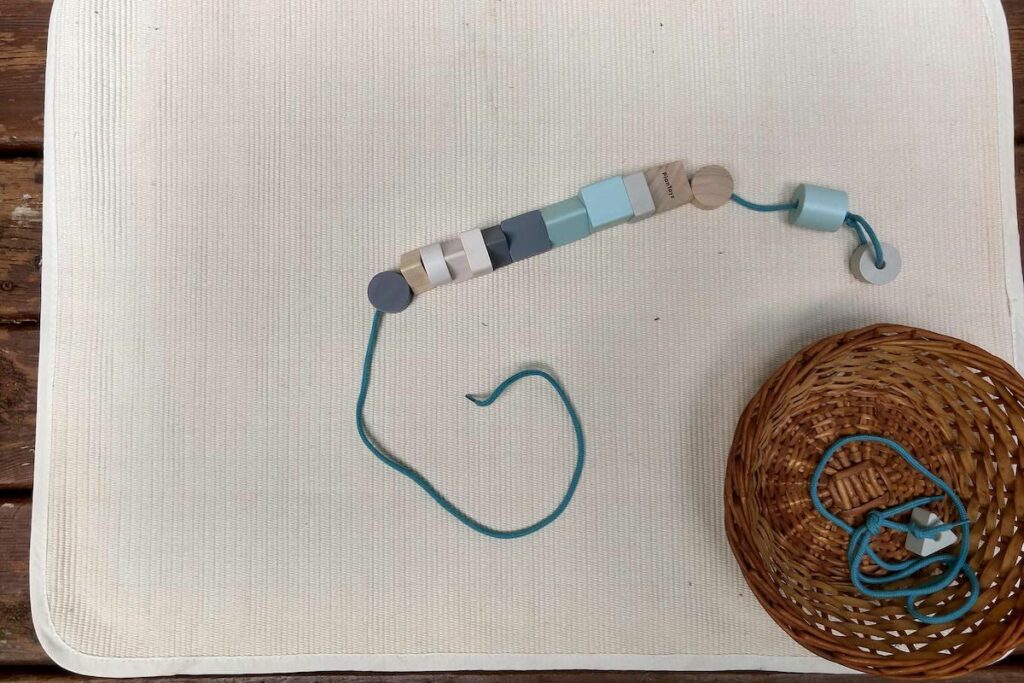 Again, this is the type of toy I love for its fine motor benefits but sometimes hesitate to buy because I don't foresee my children using it enough to justify adding it to our collection. This makes it a perfect selection for a Montessori Toy Subscription box!
My children did enjoy playing with this, but not for as long as the other toys, which did not surprise me. Still, totally worth adding it to the rental box!
Montessori Practical Life Sensory Kit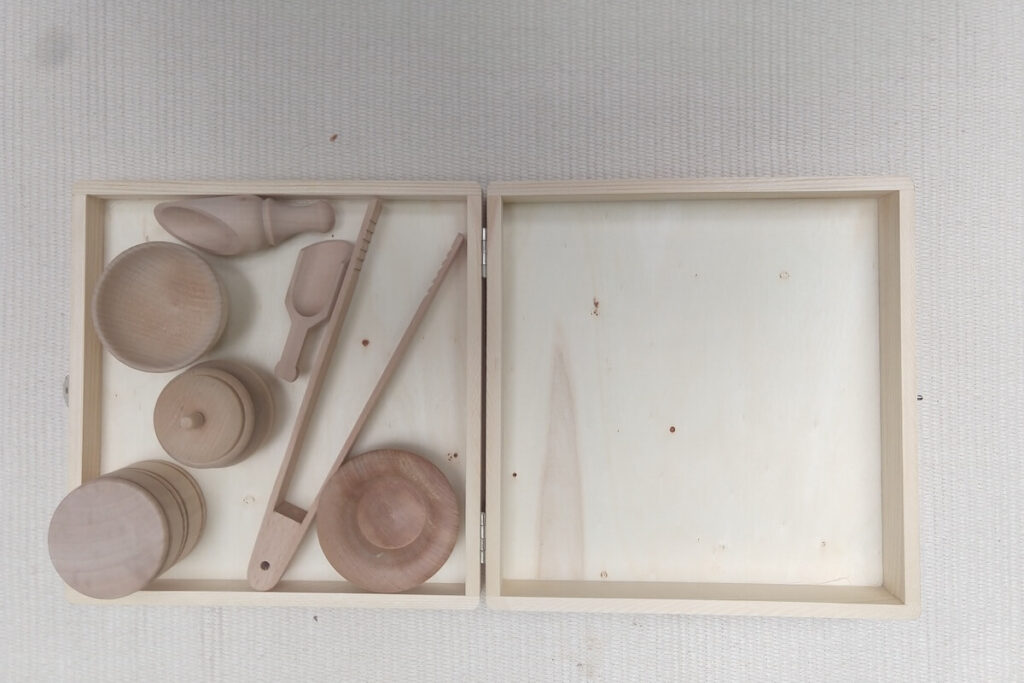 From scooping to using tongs, this sensory kit has so many applications.
For a younger toddler, you could easily separate out a couple of the bowls with one of the scoops and add some dried beans or pasta for a simple spooning activity. For an older child, you can provide all of the objects with a couple of different items for transferring.
This type of work is wonderful for not only sensory exploration, but also for developing focus, fine motor skills, and resilience to deal with the inevitable spills!
I actually don't include a lot of formal "practical life" work on my children's shelves simply because they participate in so much real-life practical life in our home, so this was different for us. My daughter really loved this one!
Wooden Nuts and Bolts Construction Toy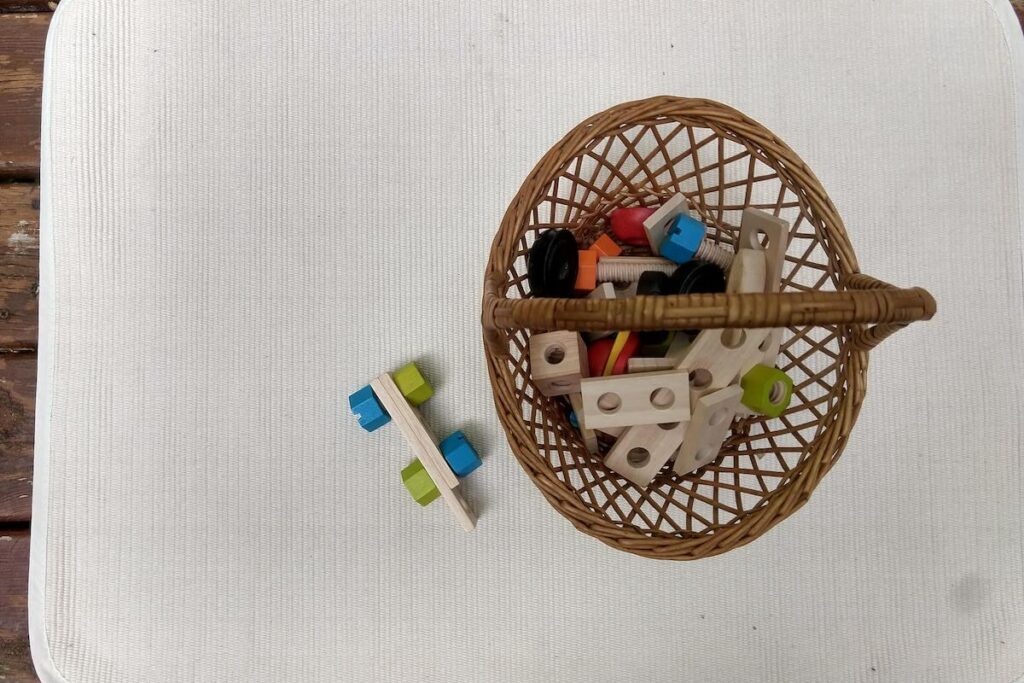 I chose this one with my son in mind and it did not disappoint! My son has always loved all kinds of building and construction toys and he was immediately drawn to this one.
I'm considering adding this one to our permanent collection. Tiny Earth Toys has an option to purchase toys your child particularly loves, making this easy!
After trying this Montessori toy subscription service for just one month, I'm in love with both the concept and the reality of these sustainable toys! I can't wait to select the toys for our next box and will keep you posted.
Please don't hesitate to ask any questions in the comments below!
Want more Montessori toy inspiration? Check out my Montessori Toys for 5-Year-Olds!